This post contains affiliate links.
Mother's Day is a celebration that recognizes each individual mother.
Mother's Day in New Zealand falls on the second Sunday of May, the exact date that the United States recognizes Mother's Day. The dates for the following years are May 8th 2022. May 14th2023. May 12th 2024. May 11th 2025.
Mother's Day is set aside in many countries as a special day to recognize the contribution and efforts of mothers.
It is also the time to celebrate all mother figures who care for others. Not all women are mothers, but that doesn't mean we shouldn't celebrate them for the mothering and nurturing they lovingly provide.
How is Mother's Day celebrated in New Zealand?
Traditionally, New Zealand children would make their mother breakfast in bed.
Another popular option is for the children to take over the household chores for the day.
It is a lovely way for young children to demonstrate they appreciate their mothers' hard work on the other 364 days of the year.
Many women still consider these activities the perfect mother's day gift.
The people of New Zealand have also taken up the trend set by the USA of celebrating at restaurants and cafes.
You will see small and large family groups celebrating over Sunday brunch. This is a favorite option.
New Zealanders also like sending flowers or a 'Happy Mother's Day' greeting card to their mother, grandmothers and other maternal connections.
In New Zealand, Mother's Day is an annual special occasion – but it is not a public holiday. Unless giving 'mum' the day off from housework can be considered a national holiday.
---
Check out my article on the Food Culture in New Zealand, Popular Cuisine and Favorite Foods
---
What is the origin of Mother's Day in New Zealand?
Mother's Day was established in 1914 by US President Woodrow Wilson after lobbying by Anna Jarvis. Early celebrations centered on church services.
There had been a prior movement in New York City in 1872 when Julia Ward Howe led a "Mother's Day for Peace" anti-war observance.
(White flowers, particularly carnations, are traditionally linked to Mother's Day. And in the USA, Mother's Day is the third-largest holiday for sending cards.)
Like many other English-speaking countries, New Zealand celebrates Mother's Day on the second Sunday in May. (As does Japan.)
It is not clear which year New Zealand first celebrated the annual event of Mother's Day.
However, Australia (New Zealand's closest neighbor) celebrated Mother's Day for the first time in 1910 with special church services. Popularly observed commenced in the 1920s
The tradition of celebrating Mother's Day is not solely a western concept. Many cultures hold festivals to honor mothers, motherhood and maternal bonds though many also embrace Mother's Day.
Fun Fact
In Hindu tradition, Mother's Day is called "Mata Tirtha Aunshi" or "Mother Pilgrimage fortnight" and is celebrated in countries with a Hindu population, especially in Nepal, where mothers are honored with special foods. (Wikipedia)
Best, most popular gifts for Mother's Day in New Zealand
Inexpensive and free Mother's Day gifts
Breakfast in bed
Homemade gifts and cards
A bouquet of flowers from the garden
Happy Mother's Day greeting card
Helping with household chores
Quality time with family. Or maybe your mother would like quality time alone?
A phone call home.
Bought gifts
The commercialization started in the early days of the Mother's Day celebration. Today Mother's Day takes gift-giving to a new level.
Restaurant meals are popular. (Maybe because it's the perfect excuse to treat everybody, including the everyday household cook?)
From there, the great ideas are endless. The 'perfect gift' is advertised a zillion times and can be purchased at retail stores or online weeks prior.
If you don't know what your mother would like, there are numerous gift vouchers. These can also be bought online and delivered electronically like these from Amazon.
Mother's Day Dates in New Zealand
Mother's Day in New Zealand is celebrated on the second Sunday of May. Like many countries, it has a significant commercial aspect. However, many mothers still get treated to breakfast in bed, often made by small children with a lot of love but limited skills.
Mother's Day Dates for New Zealand:
Why mothers deserve extra recognition
Mothers worldwide work hard, both in the home, in voluntary work and in paid employment, with women across the globe doing more unpaid work than men, as shown in this graphic from the OECD.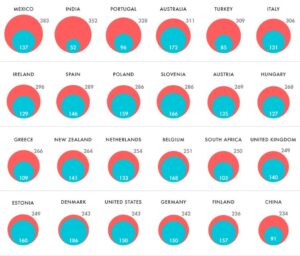 Mother's Day is a perfect time to recognize the esteemed efforts of mothers and all women. But shouldn't every day be Mother's Day?
Final Fun Fact
Father's Day is celebrated on the first Sunday in September.