This post contains affiliate links.
Finding fly fishing gear for women isn't always easy. Often there isn't much information or choice, and we have to rely on finding men's sizes that fit well enough.
Choosing neoprene wading socks for wet wading during the warm months of summer relies on getting the correct fit. Issues include; translating men's sizes into women's sizes, knowing where to buy (which is often online due to the small number of brands available in local tackle shops) and understanding which brands will do the best job. 
Here are some of the issues I've encountered and what I think might work for you. I base my recommendations on my personal use, reputation and availability.
Why use neoprene wading socks
Using neoprene wading socks when fly fishing in summer means getting out of your heavy, hot waders. 
That's because neoprene wading socks are worn inside wading boots, replacing the regular wader bootie.
Neoprene fabric is a specialist synthetic rubber filled with air bubbles, making it light and durable. This means it is an excellent thermal barrier.
Do your feet get wet while wet wading?
It's called wet wading – because your feet get wet. 
While the neoprene can be waterproof, more often than not, your feet will get wet.
But that's no big deal. The wading socks operate like a wet suit; the water inside your socks quickly warms to body temperature, so your feet stay warm.
While your feet and boots are wet, you're comfortable.  
(Wading boots allow the water in the boots to drain off quickly.)
Another choice is to wear wool socks inside your wading boots, but you'll not stay as warm. Plus, the cushioning of the neoprene fabric is excellent for comfort.
---
If you're wondering what to wear inside your wading socks, here's my recommendation on the best socks for inside your wading socks.
---
How to choose your women's neoprene wading socks
Choosing neoprene wading socks relies on these key factors:
Shoe size
Thickness of the neoprene fabric
With or without a gravel guard
Availability
Shoe size
Like many fly fishing gear, there are fewer options available for women in many fly shops.
This means sometimes working out if male options can also be unisex. 
But as when buying wading boots, men's and women's shoe sizes differ.  
In the US, women's shoe sizes are about 1.5 sizes larger than men's. So, a women's size 8 would roughly be a men's size 6.5.
Fun Fact
The smallest men's wading socks are for men's sizes 7-9 which is too big for many women.

Thickness of Neoprene Fabric
Neoprene wading socks are constructed from neoprene or 'airprene' (a more breathable fabric) from 2.5 mm to 4 mm thick.
If your wading boots are on the smaller side and you are fishing in warmer waters, then 2.5 mm is perfect.
The thicker fabric at 3.5 mm or 4 mm could be the best option for those who really suffer the cold, or need more volume to fill up their wading boots.
Gravel guard
The difference between neoprene socks used for other sports, like kayaking, is that many have an integrated gravel guard.
The gravel guard is a roll-down section of the sock that covers the top of your wading boots.
Often the gravel guard comes with a small hook designed to latch onto the boot laces or a special boot hook.
This gravel guard does an excellent job of keeping stones and gravel from out of my boots.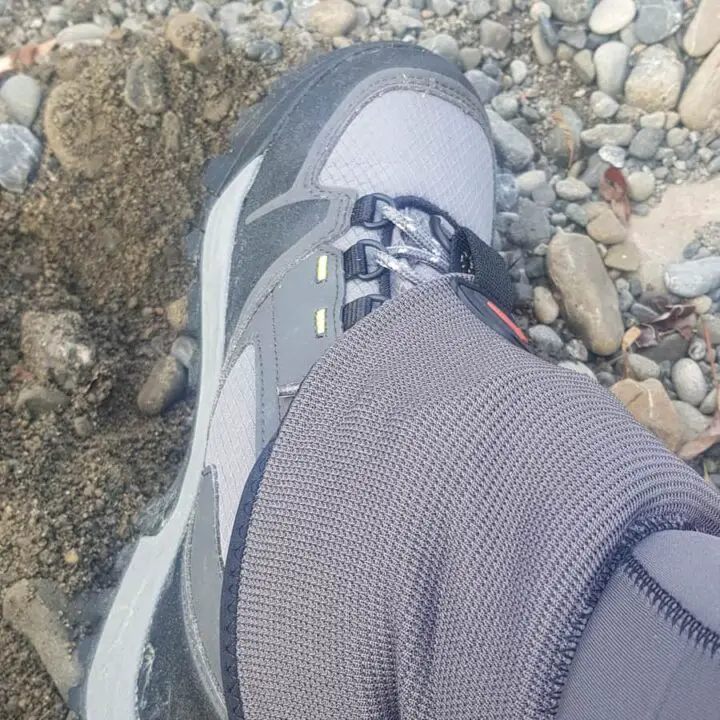 Availability
Like other freshwater fishing gear and accessories, wading socks made especially for women are not always easy to get.
What to do if you can't buy wading socks in women's sizes?
If you can't buy women's wading socks, then men's will do, as long as you can find some small enough.
Remember, men's and women's shoe sizes differ by 1 1/2 sizes in the USA. i.e., A women's 8 is a man's 6.5.
I got around this by buying the smallest men's size in a style where the shape and seams of the heel allow for flexibility. They are not perfect but are comfortable enough for a day's fishing.
My recommendations for women's neoprene wading socks
Here's my guide to buying women's wading boots. 
There are a few brands that manufacture neoprene wading boots for women. But for a broader choice, you can also look to men's models.
I own a pair of men's Simms neoprene wading socks with gravel guards.
These are slightly too big for me as they are a Men's size small, which means they fit a men's shoe size 7 – 9.
However, they fit me well enough because they don't have a heel seam and are constructed of 2.5 mm neoprene.
Simms do make Neoprene wading socks in women's sizes, but these are currently difficult to acquire.
Orvis doesn't seem to make neoprene wading socks for women.
I tried on the smallest men's size S, but they weren't an option for me as the smallest size is a men's 7 – 9.
The method of construction meant the seam between the sole and the sock upper got in the way and bunched up behind my heel.
Though I haven't used this brand, they review very well.
The downside is that they only come in men's sizes, with the smallest being Sizes 7 – 9.
The Korkers neoprene wading socks do not have a gravel guard.
The Redington Women's wet wading sock with gravel guard is constructed from durable 3.5mm neoprene featuring roll-over gravel guards.
I live in New Zealand and couldn't buy these online for local delivery when I needed them, which meant they weren't an option.
However, I have Redington Women's Waders – which I bought second-hand, and I love!
I'd be tempted to try again to buy these next time.
Shop around, especially online, and do your research
Successfully buying women's fishing gear is limited by a limited supply of models made especially for women.
The best way to overcome this is to be patient and shop around to get maximum comfort.
By doing your research and being prepared to buy brands only available online, you'll be able to build a set of comfortable fishing gear to suit your needs.
Meanwhile, keep asking your local fishing shop to make more women's gear available.
I want more women to enjoy fly fishing, which is so good for the mind and body.